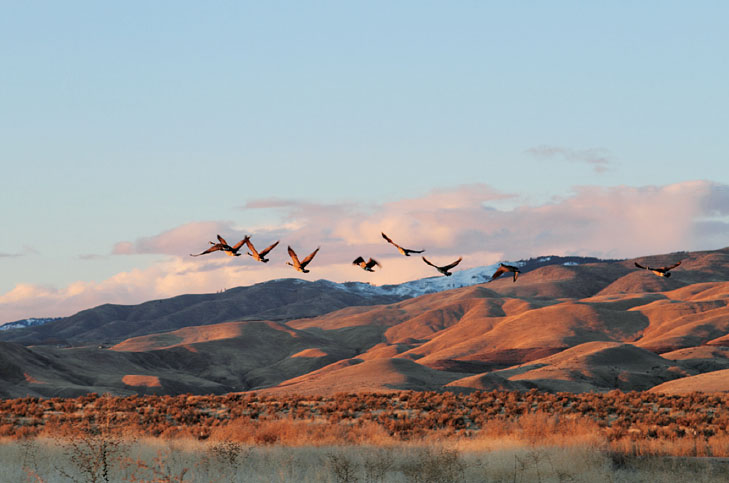 2016 starts off with a bang as the third phase of the coveted Painted Ridge community in Southeast Boise becomes available. The new phase contains 27 lots, including a handful of larger corner lots with amazing views of the Boise foothills. The community provides ample opportunities to enjoy the surrounding mountains and wildlife, while having easy access to the amenities of the city. Painted Ridge is close to the outlet mall, Simplot Sports Complex, Ice World, Micron Technology, a variety of restaurants, and is within minutes from downtown Boise and Lucky Peak State Park.
Along with the spectacular views of the foothills, Painted Ridge lies next to a network of roads and trails that wind through the hills and rivers, connecting residents with the natural environment. The community is within walking distance of the historic Oregon Trail, contributing to over 150 miles of varied trails skirting the Boise River, drainages, wetlands, and unique rock formations around the area. The amazing diversity of land, plants, and animals provide something for everyone: hikers, bikers, climbers, rock hounds, equestrians, bird watchers, and dog lovers alike!
Boise Schools provide the young residents of Painted Ridge with a superior education in a safe and caring environment. The district includes Trail Wind Elementary, Les Bois Junior High, and Timberline High School. These schools also provide youth with a variety of extracurricular activities such as athletics, band, drama, clubs, and debate. The area and schools provide a unique environment for supporting and raising youth.
Painted Ridge is in proximity to Sunny Ridge, another Eaglewood Homes community about 1/4 mile to the East. Together, these communities provide hundreds of quality homes, parks, and a swimming pool. Don't miss your opportunity to be a part of this amazing community with a new Eaglewood Home!