5 Reasons You'll Love an Open Floor Plan
Open floor plans have become extremely popular in modern homes and have been made possible by improvements in building techniques and technology. The term open floor plan refers to the combining of multiple common spaces into one larger area that provides great flow and accessibility. In older homes, these rooms were regularly divided by walls and doors. Open floor plans have many advantages and often fit well with our modern lifestyle. Here are 5 reasons you will love a home with an open floor plan.
1. Excellent Entertaining
Hosting parties and gatherings is a breeze when you have an open floor plan. Not only can you typically invite more people because of the increased functional floor space in your home, but it is also better for social interactions. Guests can mingle easily with each other, and the host can take care of things in the kitchen while also socializing.
2. Better Flow
When areas like the living room, dining room, and kitchen are combined into one large room, it is easier to move and maneuver through the house. There is a clear path that is visible, and your visitors can quickly understand how your home is set up and where to go.
3. Allows More Natural Light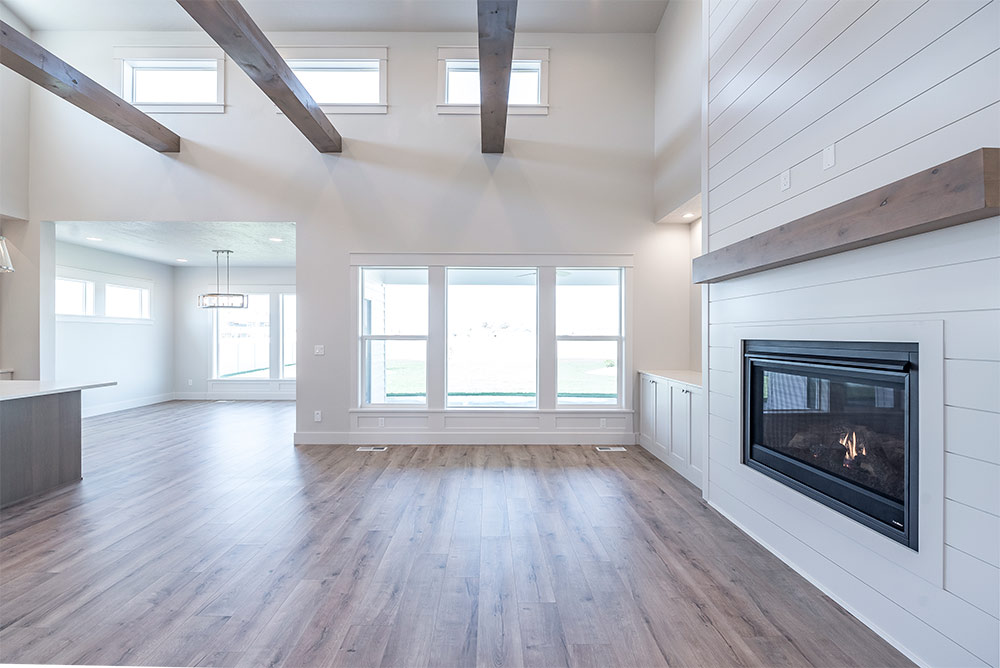 Large open spaces can be designed to let lots of natural light into a home, while walls, doorways, and small rooms can make a home feel dark and closed in. These open areas will also often allow for more views of outdoor spaces. Natural light has been shown to improve moods and provides a lovely atmosphere.
4. Ideal for Aging in Place
Senior citizens these days are looking for options that will allow them to stay in their own homes for as long as possible. Open floor plans do just that. Fewer steps and transitions between rooms, along with fewer doorways that limit wheelchair and walker access, mean that open floor plans are ideal for a forever home.
5. Real Estate Value
As mentioned above, current homebuyers are looking for homes with open floor plans. This makes your home feel modern and updated. It also adds to the square footage that is available for use. If you ever need to sell your home, open floor plans will be sure to attract interest in the market.
Meridian Home Builders
If you are looking to build your dream home, our dedicated staff of builders and designers at Eaglewood Homes can help make that dream a reality. We will work with you every step of the way to ensure that your family is completely satisfied with your new home and your home building experience. For Boise Home Builders, you can't beat Eaglewood Homes.