When you start dreaming of building your new home, a few must-haves come to mind: the sleek stone countertops, the luxurious master suite, the efficiency of your thermostat...ok, so if we're being honest, your new thermostat probably is the last thing on your mind! But lucky for you, details like that are a top priority at Eaglewood Homes.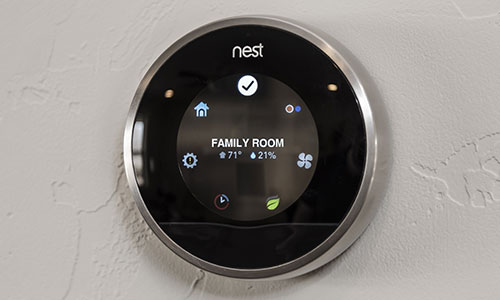 At Eaglewood we are constantly striving to use the best quality materials and appliances in your beautiful new home. Our reputation as a quality builder is important to us, and we are committed to keeping our homeowners happy for the long term. Whirlpool energy star appliances and Trane 95% efficient furnaces are just a few of the ways we maintain our quality standards and keep your energy bills low.
The Nest Learning Thermostat is the perfect companion to your new Trane furnace. With a week's worth of use, the thermostat can learn your family's preferences, and begin to automatically adjust the temperature your family prefers based on your schedule. It automatically powers down when no one is home to save you energy, and when Nest spots you across the room it will light up to show you either the current time, or the temperature you have set. If you are specifically looking to save energy, Nest will guide you in the right direction with it's Nest Leaf that appears when you have chosen a temperature that will be most economical. The Nest Thermostat alone will save you 12%-15% on heating and cooling bills.
Though your new thermostat may not seem like the most exciting feature of your new home, it will continue to impress and perform long after that new-home scent fades. So keep dreaming about those hardwood floors and full-height cabinets, you can rest easy knowing we've got every important detail well in hand.