Finding the Perfect Flooring
At Eaglewood Homes, we are dedicated to providing homeowners with the new home of their dreams. We stand by the quality and durability of our products and want you, the homebuyer, to feel well informed when making design choices so you will love your new home for years to come. One of the choices you will make that will have the most daily impact will be the type and style of your flooring. Let's take a look at some of the most common types of flooring and the benefits of each.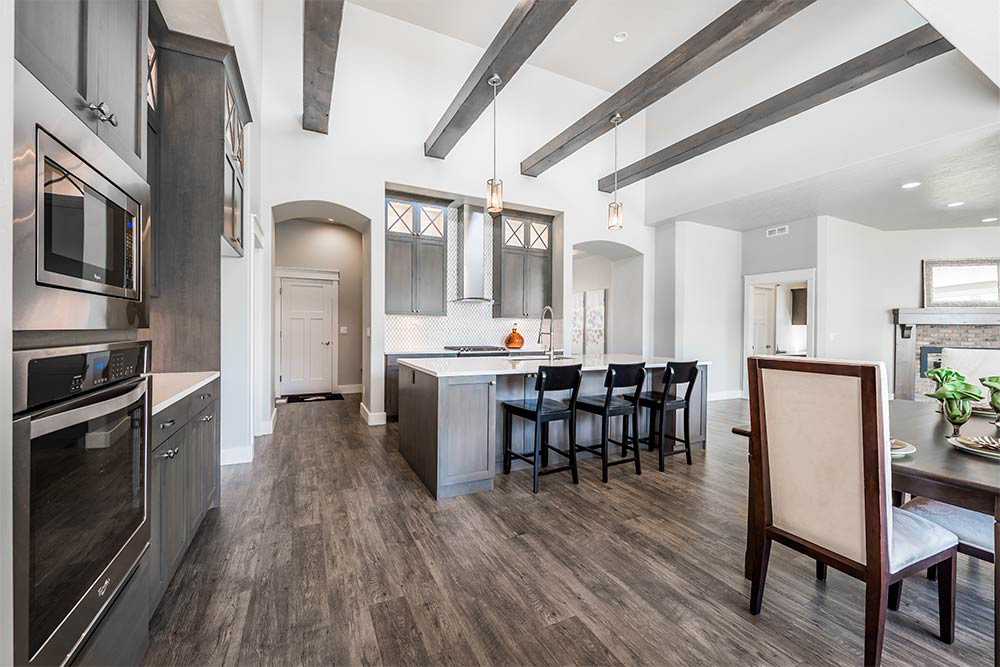 Tile is a manufactured piece of durable material such as porcelain, ceramic, or stone. Tile has become the material of choice for bathrooms because of its resistance to water damage and its ease of cleaning. Tile comes standard in Eaglewood Homes Master baths (floors and showers) as well as powder bathrooms. It is strong, durable, and stain resistant while still providing a variety of aesthetics and textures to please any homeowner. Quality tile is the most expensive flooring option and requires a proper subfloor as well as mortar and grout. With proper care though, tile will last and look great for many years. For optimal protection, place floor mats in high traffic areas and sweep tile frequently to prevent abrasions from sand and dirt. You should also damp-mop weekly to keep it looking its best. Use the manufacturer's recommended cleaning product on your tile, which will most likely consist of an all-purpose, non-oil based cleaner. This will keep the walls of your shower free of hard water spots and soap scum.
Hardwood: Using planks that have been milled from a single piece of timber, hardwood floors have a timeless quality that make them a highly coveted type of flooring. They create a feeling of warmth and luxury in your home. Hardwood floors are easy to clean, sturdy, and can last a lifetime. Since this type of flooring is quality wood throughout, it can be sanded and refinished many times throughout its lifespan. Hardwood comes standard in the kitchens, dining areas, and entry ways of Eaglewood Homes, though it can be swapped out for laminate if desired. Caring for your hardwood need not be difficult. Use floor mats to prevent sand and grit from accumulating, and then sweep or dust-mop with a microfiber cloth regularly. Avoid using water, vinegar, wax-based cleaners, and steam on your floors. This will help keep their shine and make them last. You should also consider protective pads on your chairs and furniture to prevent scratches.
Engineered Hardwood has become a very popular choice for flooring. It looks and feels like solid hardwood, but because of its unique composition can be even more durable. Engineered hardwood is made up of a hardwood veneer on the top with several more layers (usually plywood) underneath that have been pressed together. Engineered hardwood typically costs slightly more than regular hardwood floors, but it comes pre-finished, saving time and money on installation. It can also be used in areas that solid hardwood cannot. The moisture in basements can wreak havoc on real wood floors, but engineered hardwood is much more resistant to moisture and will shrink and expand less, making it a better option for these areas. While engineered hardwood can usually only be sanded and refinished once, it will still provide years of comfort and style. Care for engineered hardwood is the same as for hardwood floors. Dust-mop with a microfiber cloth regularly and use wood cleaners to remove dirt. Again, never use oil-based soaps on your hardwood floors.
Laminate Planks: Laminate is a synthetic flooring product that has multiple layers fused together using heat and pressure. Laminate simulates real wood by using a photographic applique layer that has been clear coated for protection. Laminate is similar in price to hardwood. It can sometimes be used in higher moisture rooms than hardwood, but cannot be sanded and refinished. Because of its synthetic nature, laminate has an unlimited variety of aesthetics. This means you can most likely find a laminate that you love, no matter what your preferences may be. Regularly dust-mop your laminate floors and damp mop for spot cleaning. Soap-based detergents can leave a dull film on your floors, so it is best to avoid them. Protective pads on chairs and other furniture are also recommended.
Vinyl Sheet: As the least expensive flooring option, vinyl sheet can have an important place in your new home. Vinyl Sheet is a fully synthetic type of flooring that uses print technology to create a realistic look that can mimic hardwood and even stone. It is durable, flexible, and easy to clean. Sheet vinyl comes in one continuous roll in sizes that make it so you don't have seams where you don't want them. This makes it extremely water resistant and can be used in places like bathrooms and laundry rooms, as well as high traffic areas like kitchens and entry ways. With so many different styles, textures, and patterns to choose from, sheet vinyl makes a great option for your flooring. To care for sheet vinyl, clean spills immediately and damp-mop regularly using warm water. Still have questions about what flooring is right for your home? Come in and see one of our design experts that will help you customize a new home to meet your lifestyle. We look forward to meeting you!
Sources:
Consumer Reports Floor Buying Guide, Home Flooring Infographic