Far From Standard: The Eaglewood Kitchen
Sometimes it's tough to know what is included in the base price of a new home and what is considered an upgrade. While we do offer some upgrades and sometimes feature upgraded homes in our photos, you can rest assured that our "Standard" home is anything but! We include tons of luxury materials, finishes, and features as a standard in every Eaglewood Home so you don't have to upgrade to get the home you want. While our kitchens come in different sizes and layouts depending on the floor plan you choose, these are some features you will find as a minimum on ALL Eaglewood homes.*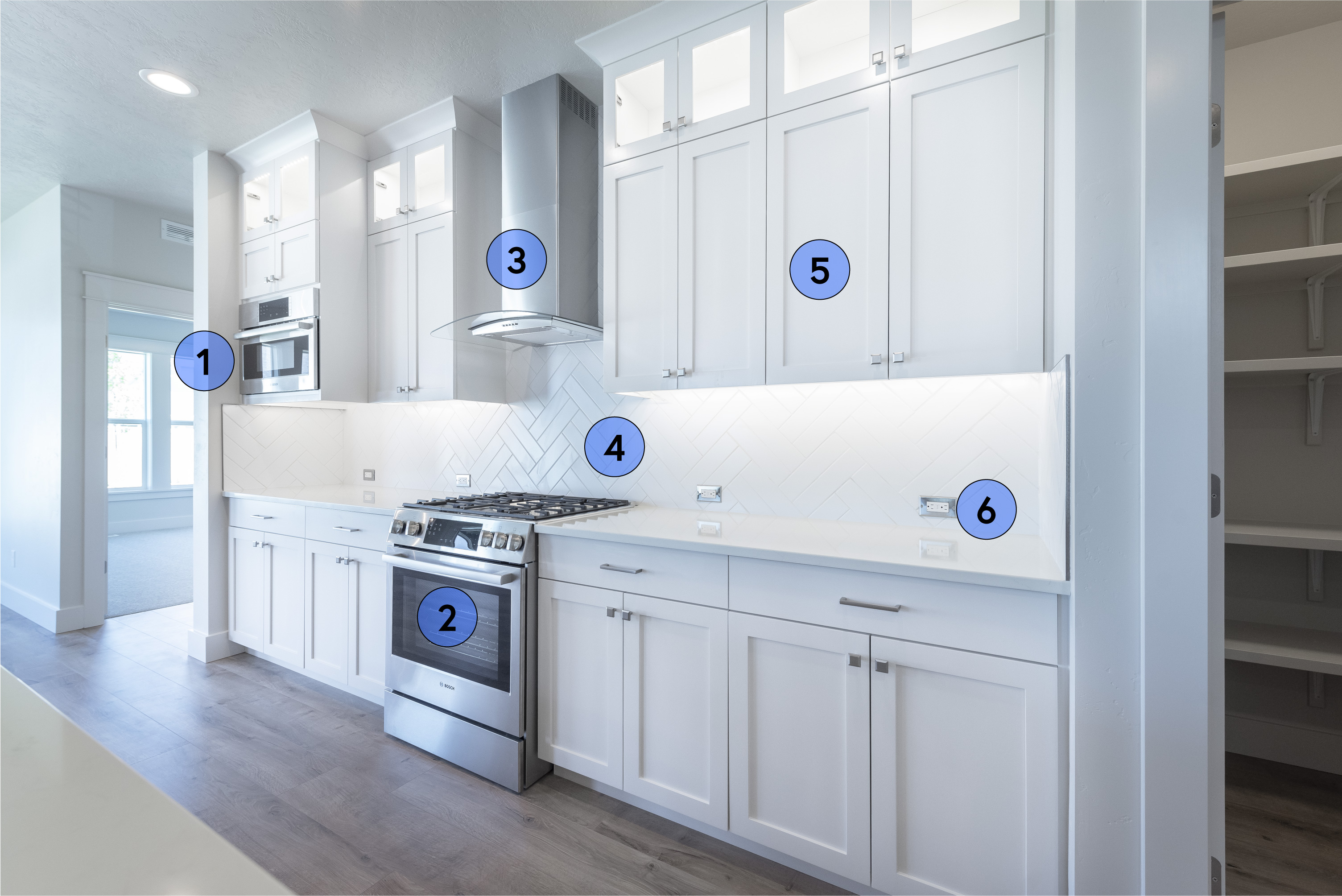 1. Bosch® premium stainless steel built-in microwave.
2. Bosch® premium stainless steel slide-in gas range with convection.
3. Whirlpool® glass / stainless steel contemporary hood vent.
4. Full height tile backsplash. Tile goes all the way up to the cabinets on the sides, and up to ceiling behind the vent hood.
5. Premium alder-front custom cabinetry. These cabinets and drawers were built custom for your home, so there are no gaps caused by using pre-made cabinets you'll find in cheaper builders' homes. You can choose stained or paint grade cabinets. Cabinets also include LED strip lighting underneath!
6. Mulitple wall outlets - conveniently located for all of your appliances.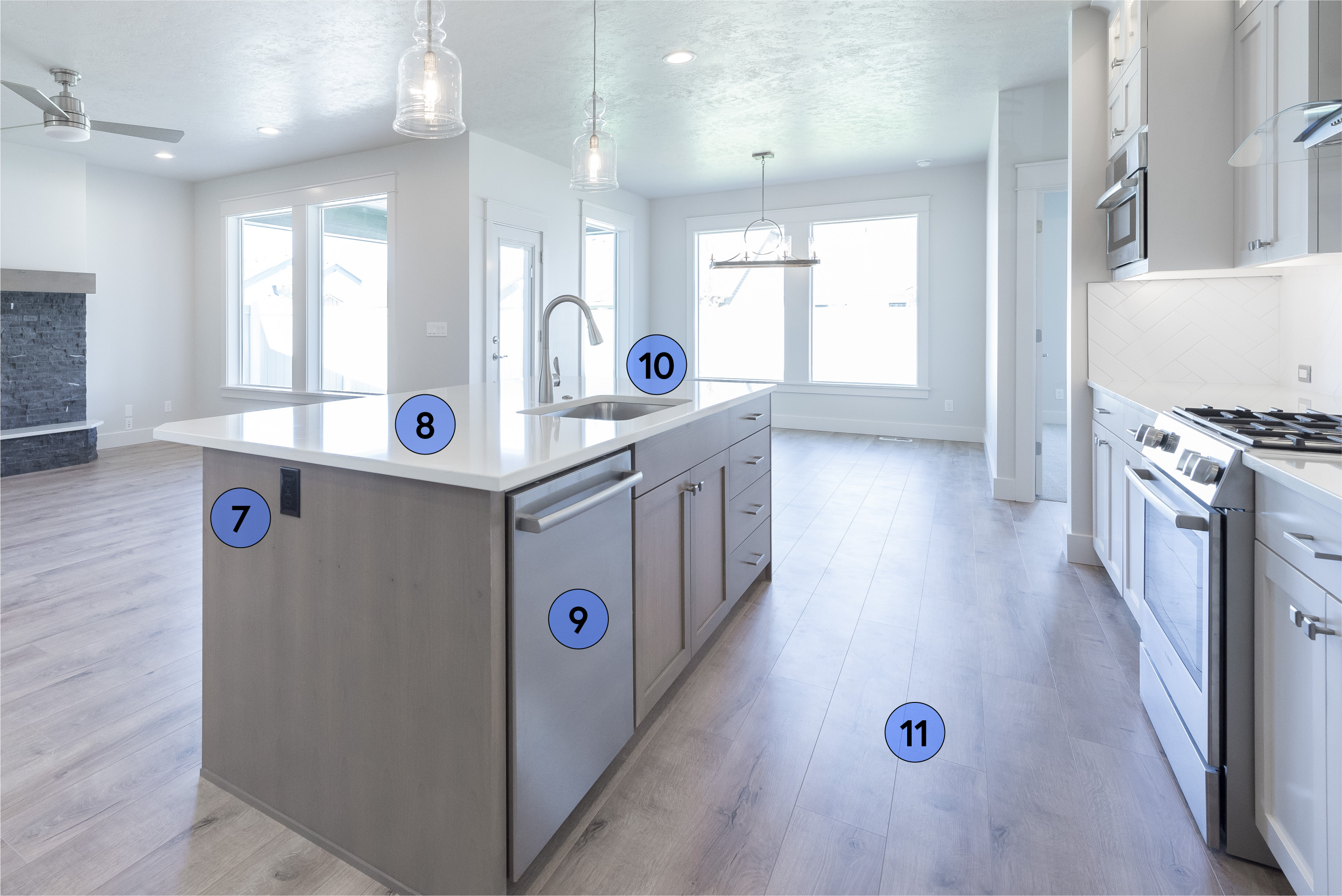 7. End of Island outlets
8. Granite or Quartz counter tops - 3cm thick, solid slab granite or quartz.
9. Bosch® premium stainless steel dishwasher
10. Stainless steel undermount sink - single or double bowl.
11. Hard surface flooring in kitchen - we have many options of laminate or vinyl plank to choose from. Flooring extends to dining room, living room, and entry.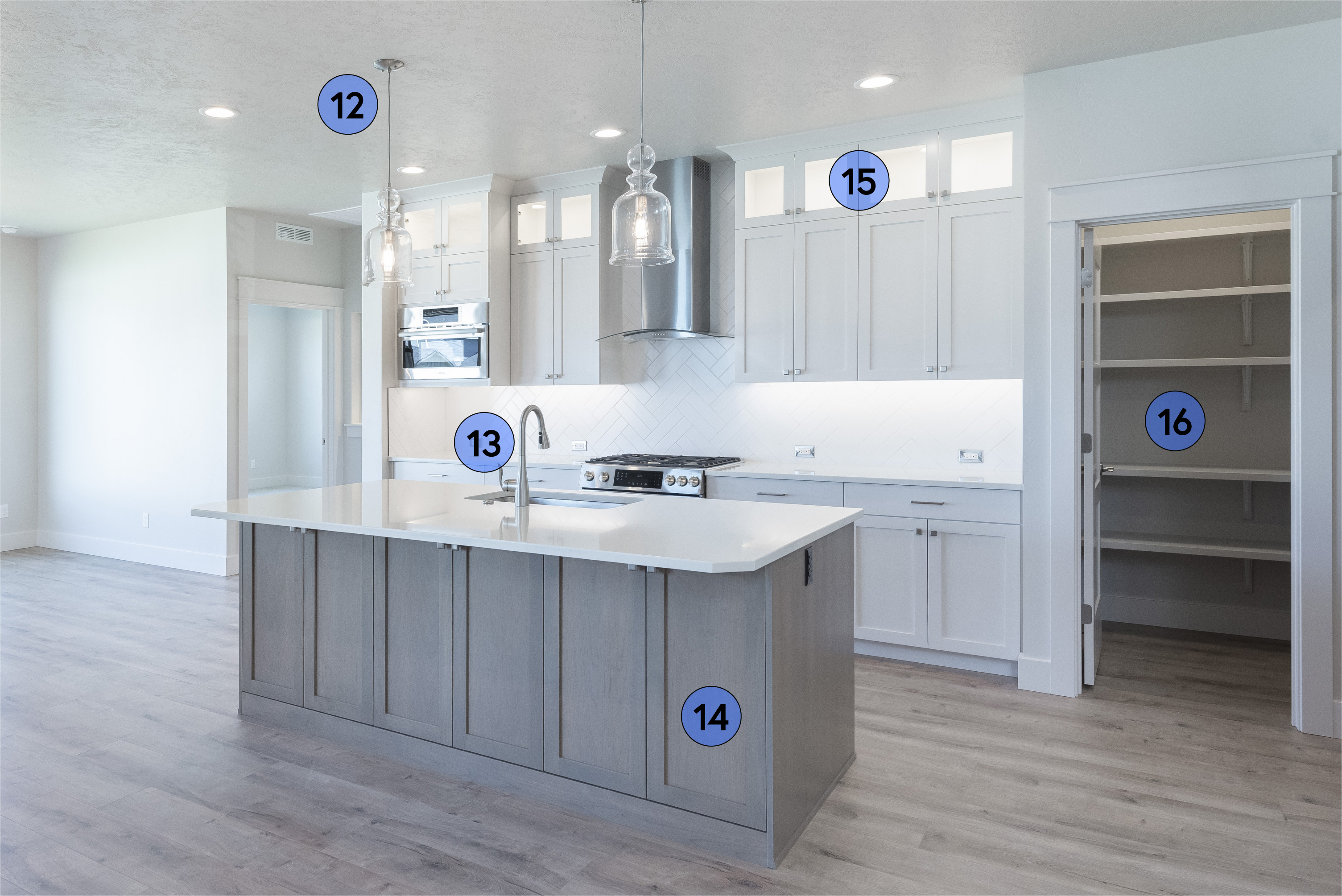 12. Island pendant lighting - our standard lighting budget allows for multiple decorative and functional lighting fixtures throughout the home.
13. Premium Moen® plumbing fixtures
14. Back-end storage cabinets - Doors on the back side of the cabinets give you easy access from both sides!
15. Glass-front upper cabinets - with interior LED strip lighting.
16. Separate pantry - size and layout may vary, but every floor plan comes with a separate walk-in pantry with ample custom shelving and full size door.
*information based on Eaglewood Homes signature standards as of September, 2020 - standards and information are subject to change.