Ideas for a Stunning Accent Wall
Your new home is the perfect place to showcase your sense of style and set the tone for your unique lifestyle. Accent walls were a big trend in the early 2000's, and they are once again becoming popular. Creating an accent wall can be done in a budget-friendly, sophisticated way that will enhance the beauty and architecture of your new home. Here are some accent wall ideas to help you get started.
ADD PAINT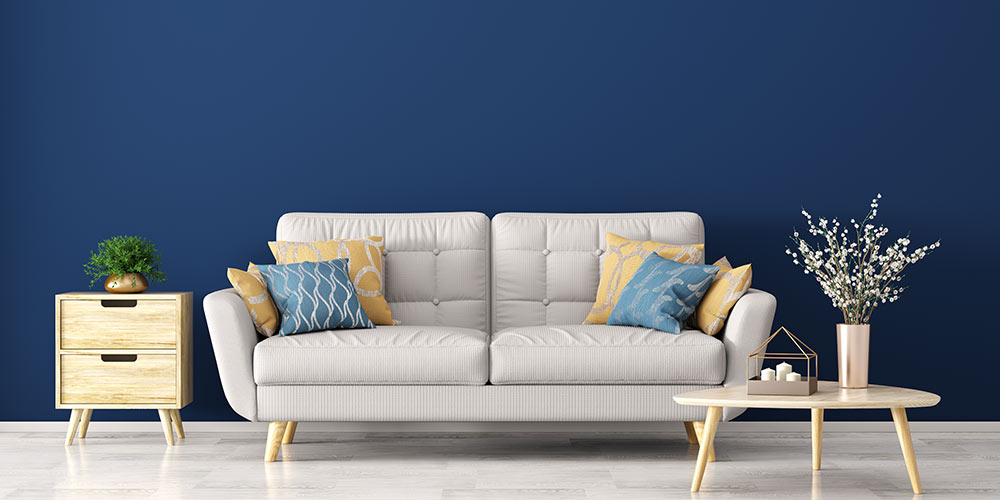 Perhaps the easiest and least expensive accent walls are done by simply adding a new coat of paint. Thought and careful planning is important though because if done incorrectly, it can make a space look haphazard and unfinished. To create a stunning space that looks intentional, try some of these tips:
Use a painted accent wall to highlight interesting features like a fireplace, crown molding, or an interesting shaped wall.
Use paint to highlight smaller areas within a room and give them purpose, like separating a dining room from a larger great room.
Make sure that you consider the color tone of the surrounding walls. For example, if your current walls have a cool tone, choose a cool accent color.
EXPLORE WALLPAPER OPTIONS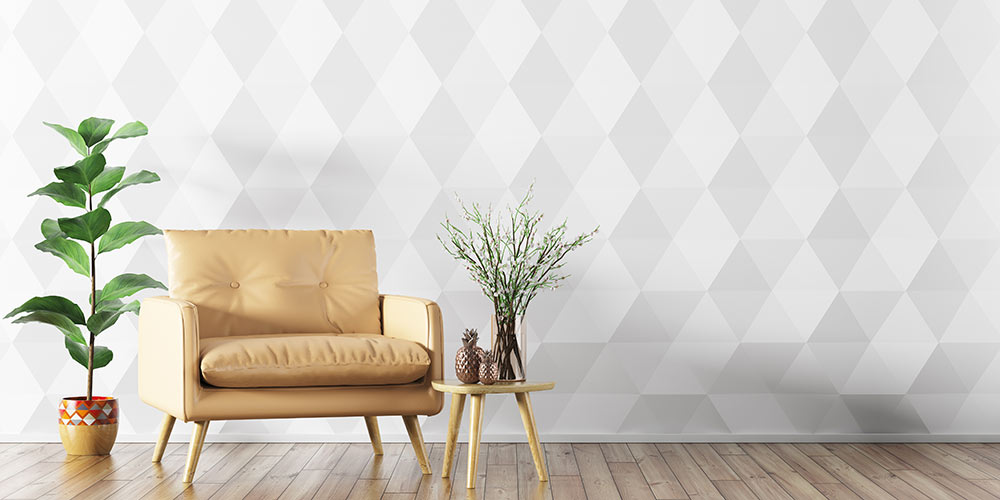 Wallpaper used to be a sign of an old, out-of-date house, but more and more designers are bringing wallpaper back in sophisticated ways. As an accent, wallpaper can be eye-catching and bring interest to an otherwise boring room. To make it even more accessible, wallpaper now comes in a temporary option that is removable and requires no paste or water. This allows you to try out the style without the long-term commitment.
INCREASE TEXTURE WITH WOOD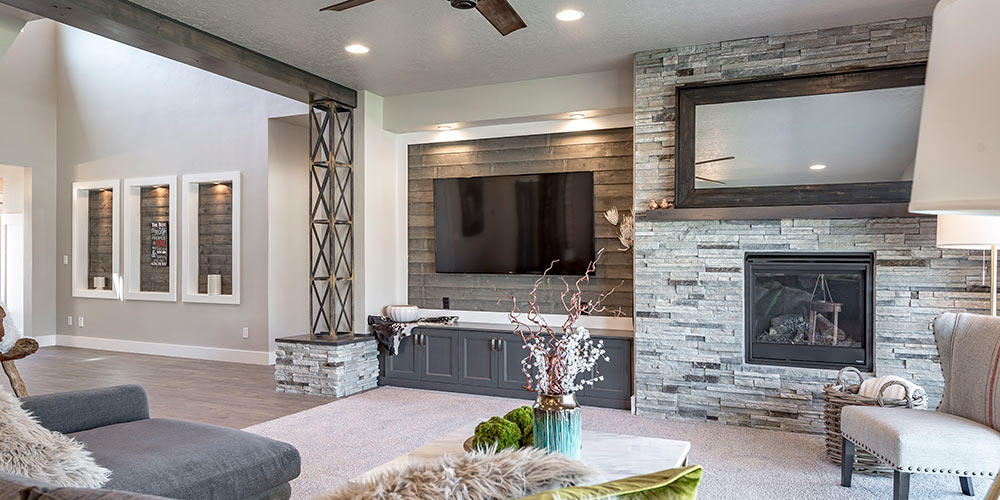 One of the most popular and on-trend options for accent walls right now is wood planks. Bring the outdoors in with a beautiful wood accent wall that will make a room feel contemporary and cozy. You can do a whole wall or you can do a small section. Bedrooms, dens, kitchens, and dining rooms can all be great places to add this pop of texture. An easy way to get this look without the cost and hassle is with new peel and stick wood panels that are now available through various companies.
CLEAN IT UP WITH SHIPLAP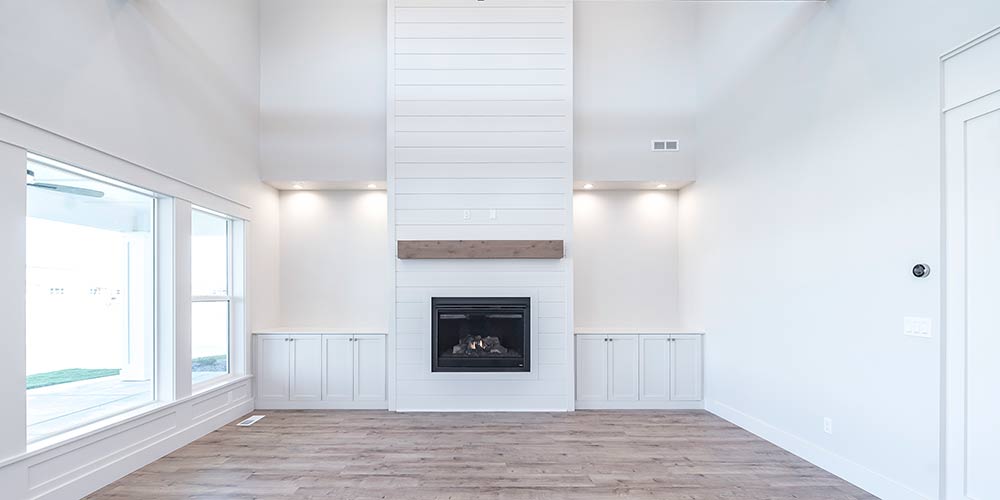 The Denali by Eaglewood Homes
Similar to wood, shiplap paneling can be a great accent material. Shiplap paneling can be painted a variety of different colors, or left white for a nice clean look with crisp lines. Shiplap paneling is a great way to give your home a minimalist modern look and is a big part of the "farmhouse" style. Shiplap can be used in bathrooms, bedrooms, kitchen walls, or a fireplace to give it some extra pop
USE HEIRLOOMS OR ARTWORK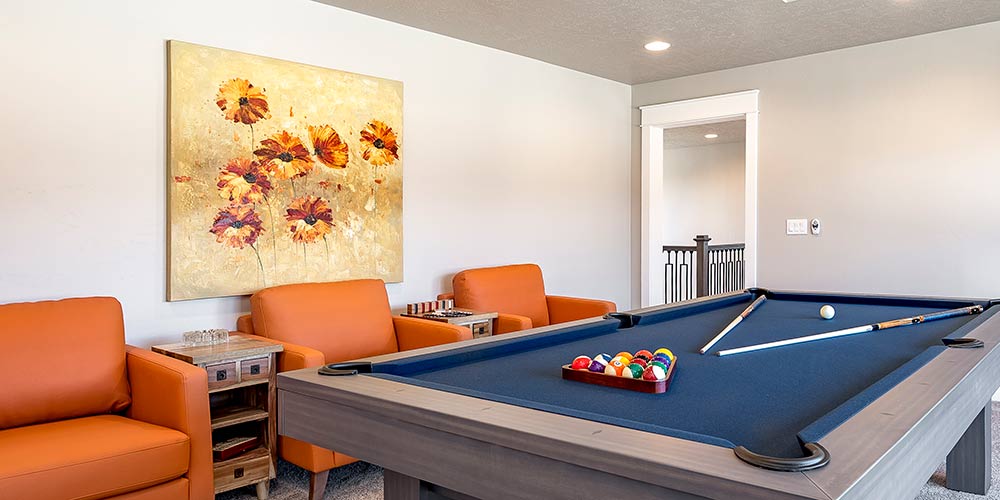 The Bitterroot by Eaglewood Homes
If you want to create an amazing accent wall, sometimes you don't need to change the wall at all. Instead, use things that you already have and showcase them on a particular wall that could use some interest. This might include things like a plate collection, large-scale artwork, or even a collage of pictures and frames. To avoid a space becoming too busy, focus your efforts on one area and surround the accent wall with more minimal decorating. This is a great opportunity to decorate with things that are meaningful to you and your family.
BOISE HOME BUILDERS
At Eaglewood Homes, we want you to love your home. If you are in the market for a new home to make your own, Eaglewood Homes is ready to make your dreams a reality. Work with our design team to create a home where you and your family can live and thrive. We build throughout the Treasure Valley from Boise and Meridian to Nampa and beyond. If you are looking for an award-winning Boise home builder, contact the great staff at Eaglewood Homes to get started today.