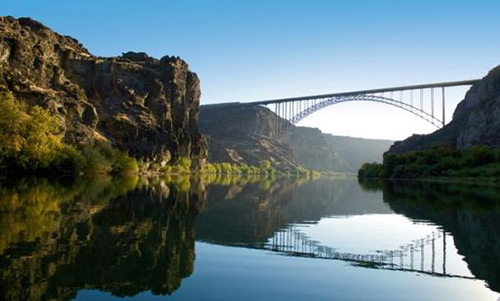 With Idaho cities regularly ranking on USA Today's "America's Best Cities to Live in," People are finally coming to realize what Idaho natives have known all along – no matter who you are or where you're from, Idaho is the perfect place to put down roots. Eaglewood Homes is proud to be a quality home builder for some of the fastest growing cities in the nation, right here in Idaho, including Boise, Meridian, and Twin Falls. There's a reason behind all of that growth: contrary to popular belief, Idaho has a lot more to offer than just potatoes!
Coming in at #4, Twin Falls is home to over 80,000 people and counting. At about 180 miles southeast from Boise, the Snake River Canyon is fast becoming a popular destination, as it has something for everyone – thrill seekers will love kayaking, rock climbing, and death-defying base-jumping from the Perrine Bridge, while families can enjoy a strong community that supports both sports and academics. And yes, if you are interested in potatoes, Twin Falls excels in its agriculture-based economy, though it actually leads in the dairy industry and not potatoes. This thriving economy has built an amazing reputation for Twin Falls as a preferred location for food science, production and processing companies. Big names like Chobani, Glanbia Foods and Cliff Bar are currently building multi-million dollar facilities in the area to bring even more jobs and billions of dollars in economic growth. Other big businesses and franchises like Ross, Men's Wearhouse, Dick's Sporting Goods, Ulta and many more opened in 2015 with more continuing to open every year to accommodate the explosive growth of Twin Falls.
With an unemployment rate at 3.6%, and a projected 36% job increase over the next 10 years, it's not hard to see why families and businesses are flocking to Twin Falls.
It's no wonder that Idaho is nicknamed the Gem state – not only does it offer an abundance of natural resources and breathtaking scenic attractions, the communities and opportunities are second to none. Whether you're an Idaho native or new to the Treasure Valley or Magic Valley, it's easier than ever to find the right community for you! Let Eaglewood Homes help make Idaho your final destination!